Living with Lactose | Issue VI
Good Evening
Dairy Dreamers
🙇🏽‍♂️
Welcome back to the sixth ins
talment o
f our weekly series,
Living with Lactose
!
Here's to another week full of advice, tips and hints on aiding your
digestion
and helping our
tastebuds explore
- letting us all seize the day 🐮
In our sixth weekly series, we have a little bit more of a scientific one as we'll be exploring:
➕ The infant years where we
lose
our natural intestinal lactase activity.
➕
Colonic adaptation
,
and why, when paired with
our tablets
,
it can be a powerful way to
reverse
our
dairy digestion decline
🥳
➕ Our
Restaurant of the Week:
Domino's
& our
Indulgence of the Week:
Pizza
🍕
There's a million ways to maximise one of the world's most basic, yet important pleasures, and we're here to guide you and keep you informed every step of the way 🕺🏽
Quote of the Week: Jennifer Aniston
"Look, I eat really well, and I work out, but I also indulge when I want to. I don't starve myself in an extremist way. You're not taking away my coffee, or my dairy, or my glass of wine, because I'd be devastated."
- Jennifer Aniston, "Jennifer Aniston's Beauty Advice: 'Stop Eating S**t'"
Our Infant Years: It's Painful Growing Up 🤢
Since our ability to naturally create
lactase
decreases as we get older, considering the
age
of anyone that may be suffering from dairy is crucially important when assessing whether they may be
intolerant.
Lactose malabsorption is generally rare in infancy, as children tend to reach
peak intestinal lactase
activity at
birth.
Whilst healthy infants usually exhibit high levels of lactase activity, the post weaning period sees the emergence of 2 types:
lactase deficiency
and
lactase persistence.
For those of us who become
lactase-deficient
, our lactase production begins to gradually decrease some time during childhood. For this group, studies of children have indicated we approach
adult levels
of lactose intolerance around the
age of 7-10 years.
This occurrence of lactose intolerance generally
increases
with age and seems to increase more
sharply
in populations where the prevalence of lactose malabsorption is high!
This means most studies surrounding levels of lactose intolerance in the world, alongside our own advice when taking our tablets, are applicable for children from the age of
10 years
.
If you have a child younger than this that may be suffering at home from
lactose intolerance
, it's important this is checked with a paediatrician, as some children exhibit low lactase concentrations at as young as
2 years
of age.
Better Days Ahead: Colonic Adaptation 😍
In case the previous points might have had you thinking there's no relief from a world of
disappointing
dairy digestion,
you
couldn't
be further from the truth.
Colonic Adaptation
refers to your bodies natural way of trying to deal with the lactose you keep trying to throw at it 😄
For those of us that are lactase-deficient and therefore
lactose intolerant
(as lactase is the enzyme that breaks down lactose – the sugar in milk):
Evidence has suggested a gradual and consistent intake of dairy products
supports the growth of lactose-digesting bacteria in the colon.
This
enhances
processing of lactose within the colon and helps with the
reduction
of intolerance symptoms. This is what we refer to as
colonic adaptation.
If you support this with our
highly effective lactase tablets
, this adaptation can be an
incredible way
to help build up good lactose-eating bacteria in the colon and ensure your body is ready for WHATEVER dairy you may want to throw at it in the future ✨
The Alternative: Lactose Withdrawal 🤨
Colonic adaptation means that in susceptible individuals that may be suffering from lactose intolerance, letting your body
get used to dairy
with gradual intake (supported by our tablets), may well
improve
intolerance symptoms.
The
alternative
that many have decided to take, with their symptoms painful and without knowledge of tablets like ours, has been to avoid lactose
completely
, whether that's by only ingesting lactose-free items or by taking the extra step and avoiding dairy completely.
Whilst this is a natural reaction to food or drink bringing us pain, it provides problems for
two
main reasons.
Firstly, lactose-free items merely
add
a lactase enzyme to regular milk or cheese to keep lactose levels at a minimum. Whilst this makes sense, lactose is
the sugar
in milk, meaning the consumer
loses a lot
of taste.
As our tablets do the same job, we
aren't restricted
to only picking lactose-free items. Instead, we can have
free roam
with our groceries and restaurant orders.
Secondly, and equally importantly,
lactose withdrawal
results in the
loss of colonic adaptation.
For those of us that decide to avoid dairy completely, our bodies then have no reason to give us
any level
of protection when having dairy.
This means that symptoms of lactose intolerance will likely be
worse
and
more intense
if lactose is reintroduced into the diet, whether at a restaurant staring at your favourite cheesy pasta or at a wedding wanting to dig into the cake!
Restaurant of the Week: Domino's Pizza 👌
Domino's Pizza
was founded in
1960
by Tom Monaghan and his brother, James. The brothers borrowed $900 to pay for the first store in Michigan. Since then, Domino's has grown to
17,000
stores worldwide, with their UK Group the largest master franchisee measured by retail sales and store profits, with
860
UK locations.
Indulgence of the Week: Pizza🍕
We would have probably missed a beat if we didn't take some time to respect the classic, unavoidable, irresistible, and emphatically beautiful creation that is
pizza.
The ability to put on
any
toppings we like, easily eat it with our hands, and the sensational taste and warmth from a wood-fired oven has allowed such a simple creation to become one of the most popular foods in the world.
Whilst the term
pizza
was first recorded in the 10th century from the Southern Italian town of Gaeta in Lazio, modern pizza was invented in
Naples
. The popular legend holds that in 1889,
Queen Margherita
fell in love with a pizza in the
colours
of the Italian flag – red (tomato), green (basil), and white (mozzarella).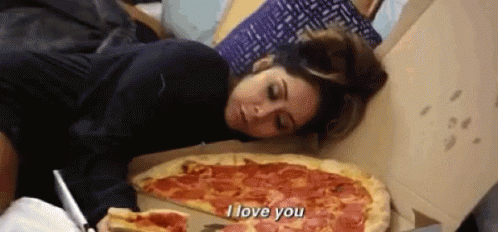 Dairy is such an unavoidable and enjoyable fact of life we started a business just so we could focus on it 😎 supplying high quality lactase tablets that ensure you're prepared for any indulgence, and any occasion, that life might throw at you! 🥳✨
We hope we've managed to give some dairy enlightenment on such a dull Tuesday!
See you next week
Dairy Dreamers
🤩
Richard A Forsgard,
'Lactose digestion in humans: intestinal lactase appears to be constitutive whereas the colonic microbiome is adaptable'
[2019]
110(2)
The American Journal of Clinical Nutrition
Christian Storhaug and others,
'Country, regional, and global estimates for lactose malabsorption in adults: a systematic review and meta-analysis'
[2017]
2(10)
The Lancet - Gastroenterology & Hepatology